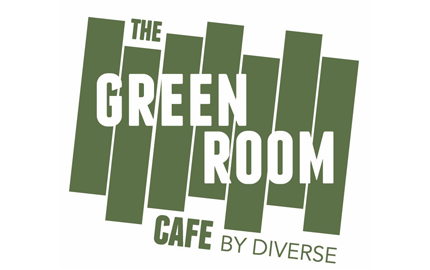 The Green Room Café by Diverse is located inside Diverse Studios and is open every day from 8am – 7pm six days per week. They have two fully trained Baristas and top of the range coffee machines. The café offers specialty coffees by RAW Coffee with a full coffee selection including drip, espresso, latte, cappuccino, hot chocolate etc. with a range of flavoured syrups. They also have a selection of hot and cold drinks such as fruit smoothies, juices, healthy drinks and sodas. They offer a full range of milks and non-dairy milk options. Including soy, almond, and coconut alternative milk options are soy, almond and coconut.
The Green Room Café offer a wide range of healthy breakfast, lunch and 'dinner on the go' meal options. A wide selection of baked goods, including gluten free and vegan options to cater for everyone. From soups, pastas and vegan pizzas, to delicious wraps and paninis. Croissants, and bircher muesli, to salads and fruit salads, and of course delicious sustainable coffees. The fruit smoothies on their menu are a huge favourite with the students for a healthy pick me up between classes.
With every purchase a wifi access code is given, so that our students, families and guests can work on the go at their convenience.