Annual Newsletter 2017
It has been another wonderful year here at Diverse Choreography Performing Arts Center.
We got off to a great start by receiving a second consecutive Timeout Kids Award for Best Local Theatrical or Music Performance for 'Dancin' On The Sidewalk' our annual show at the Madinat Theatre. We are super proud of our students and teachers to have achieved yet another Timeout award! During the year we also won two more awards – 'Best in Performing Arts Teaching Services 2017' from the Global Awards 2017 and 'Leaders in Performing Arts' from the UAE Business Awards 2017. Go Diverse!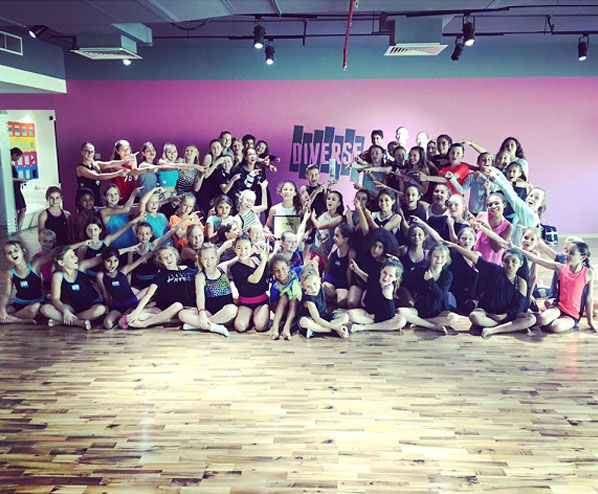 Our students celebrating our second consecutive Timeout Win!
With Term 1 in full swing it was time for our singing and dance assessments. This is always a great opportunity for our students to show us how their learning has progressed throughout the term and the results are always astonishing. Some truly great work was produced and the teachers thoroughly enjoyed seeing how much our students have advanced and developed in their training with us – we can't wait for this year's assessments!
Christmas time brought cheer and our students were lucky enough to be invited back to perform at Winterfest for their annual panto – congratulations to the girls that took part in
Aladdin, it was a great show and we have even been invited back for a third year running, look out for us at Winterfest 2017!
The beginning of 2017 was time for us to start practising for our annual show at Nord Anglia School. This was a huge success and the students were super professional (as always) and brought the house down with their 'Fun At The Fair' themed performances. We had students as young as 5 taking part and they did a fantastic job, with much enjoyment had showcasing their talents in front of family and friends. We also managed to raise 24,089 AED for our chosen local charity last year, Red Crescent.
March was a super busy time with 20 of our students given the opportunity to perform for 5 days as the Qasr Al Hosn opening ceremony in Abu Dhabi. The children had a blast making lots of noise and waving their flags! Two of our students, Sam Dorrell and Jake Caswell, auditioned and were selected to perform alongside 100 professional performers for the Dubai World Cup 2017 opening ceremony at Meydan. The experience was invaluable and the show was spectacular, well done boys! Whilst Cherry was at Meydan on the opening Ceremony, Scott was working on the VIP dinner for DWC and one of our students Faris Al Mutawa was selected for a featured part – well done Faris!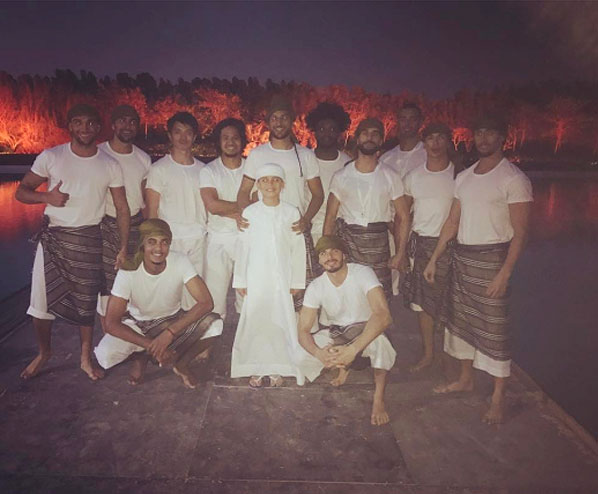 Faris Al Mutawa with our professional dancers during VIP Gala Dinner for Dubai World Cup 2017
Some of our younger students were given the opportunity to dance and model in a flashmob and fashion show for the beautiful clothing brand Level Kids. Choreographed by
Scott, the show was beautiful and the audience (and our students) were smiling from ear to ear throughout! Our model's in the making didn't stop there, during August when many of us were enjoying our summer holidays, Scott choreographed yet another fabulous fashion show with our students in Abu Dhabi Marina Mall. Yet again another seamless show – well done everybody!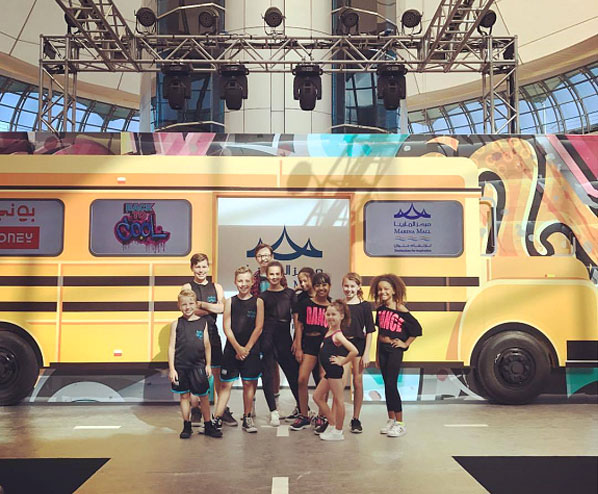 Calan Marshall, Jacob Ryder, Keir Marshall, Lorcan Air, Melissa Fiche, Natalie Lopez, Lineshya Das, Farah McIntyre, Layla Wild and Jasmine Brooks strutting their stuff in Abu Dhabu Marina Mall.
Spring time means only one thing…. Exam time! Whilst many of our students were busy revising for GCSE's and A-Levels, they also had another set of exams to revise for – LAMDA Singing, Trinity Drama, RAD Ballet and ISTD Tap and Modern.
Our ballerinas had some great results with a total of 69 distinctions and merits, wow, the highest marks being achieved by Miranda Martin with 84%! Our best results to date – congratulations to Jackie and her students! 
Trinity King Neil and his students gained 26 distinctions and 10 merits in his round of Trinity Drama exams, great work guys! The highest scores in 'Individual Acting Skills' exams were awarded to Samara James, Lily Roatz and Sharifa Shaboury, all with 92/100 – congratulations girls! Congratulations to Inaya Nagji who scored 91/100 for her Grade 4 exam – the highest mark in the UAE! Amy Turner and Charlotte Blackwell also scored 88/100 on their 'Acting In Pairs', Grade 5 exam, also the highest score in the region!
Our singers gained some excellent marks from LAMDA with Jacob Ryder scoring a whopping 91% and last but not least our ISTD Modern and tap results included 58 distinctions and merits. Congratulations Catherine on maintaining such a high standard of exam results. Scores includes 91/100 for Sofia Zucchero in her Grade 1 exam, 90/100 for Samaya Dimakshi for Grade 3 Tap and 90/100 for Emily Savory in her Grade 6 Tap exam. We would also like to give a special mention to Jasmine Scott who gained 97/100 for her Modern results for the second year running – fantastic work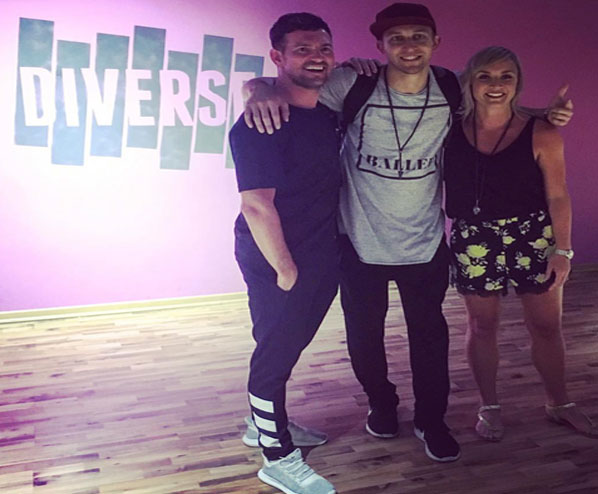 Scott and Lisa with Matt Stefanina
Jasmine!
We ran a number of workshops from the studios this year, starting with Children's Casting Director Jo Hawes who ran an audition masterclass in May. She brought with her a team of West End Professionals who put our students through their paces and what an experience they had! We look forward to hopefully welcoming Jo and her team back in the future.
We flew our second workshop guest in from L.A and his arrival brought with it a huge turnout. Matt Steffanina wowed us all with his fantastic choreography and teaching skills – there was an amazing energy in the studio and many of us fell in love with dance all over again!
The end of the year brought our annual show at the Madinat Theatre, this year titled 'Turn Up The Music' and turn it up we did! Yet again this was an incredible success with showstopping dance routines, beautiful singing and excellent drama sketches. The show is always a fantastic end to the year and it was wonderful to see so many of our students having the time of their lives on stage.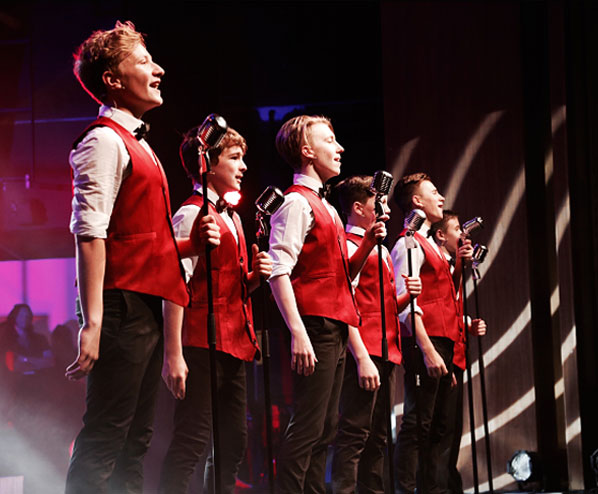 Eddie Zickerman, Beau Lonergan, Callum Bell, Jacob Ryder, Oliver Ferro and Luke Ebersohn in action during 'Turn Up The Music'
We would like to thank our sponsors, UPANDRUNNING, YH Studios and NR Beauty – thank you all for your support during show time.
We would also like to thank parents who supported us with the show, helped with chaperoning and contributed in any way. We couldn't do it without you and we hope you were as proud of your children as we were.
We finished the year with summer camps throughout July. We studied 'Trolls', 'Moana', 'Beauty and The Beast' and 'Sing' and the students were thrilled to put on mini performances of each. As well as perform in the shows, the students built their own set, painted scenery and created their own props. It was great to see so many children exposed to all areas of performing arts and we hope they had as much fun as we did!
Looking ahead, we are already in the middle of organising a number of workshops, booking theatres and planning events. No doubt it will be another jam packed year and we can't wait!