Annual Newsletter 2018
Yet again, it has been another fantastic year at Diverse Performing Arts Center as our school and students continue to grow and develop within the wonderful world of Performing Arts.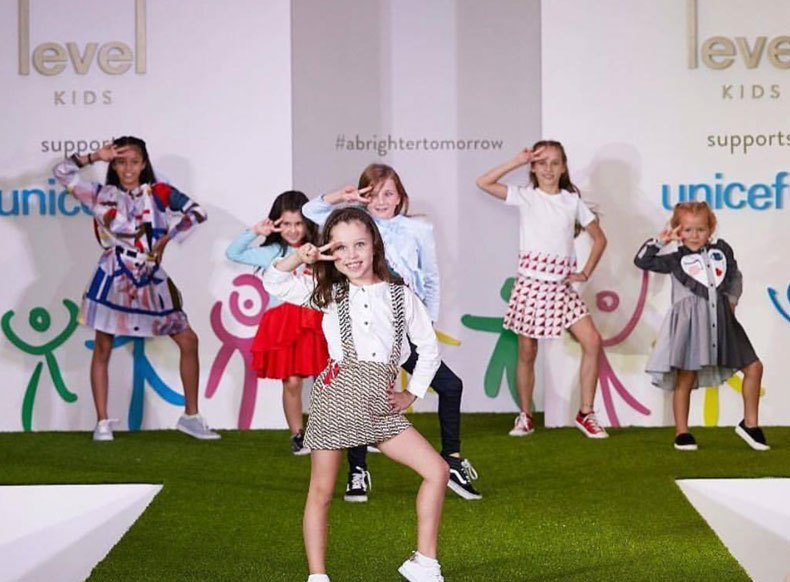 Some of our younger students strutting their stuff on the Level Kids Catwalk
Our year got off to a busy start in August, with some of our students who took part in a fashion show in Marina Mall in Abu Dhabi, showcasing their back to school range of clothing for kids. In October, we had yet another fashion show for Level Kids, Dubai, in partnership with Unicef. The event was presented by one of our students Charlotte Blackwell who was a great emcee and more of our students sang, danced and modelled. This was a beautiful event and we were super proud to be involved.
In October, two of our younger students Keir Marshall and Lara Shonibare emceed the Sharjah Film Festival Awards whilst two of our older students , Charlie Waddell and Callum Bell performed in a screen show specially choreographed by Scott. These students met and shared the stage with Jacob Tremblay, the lead actor in 'Wonder' and 'Smurfs 2'!
November brought our dance assessments and our teachers were speechless with how well all of the students performed. This is such a special time of year for staff as we watch the students showcase how well they they are progressing with their dance technique and abilities and they seem to break new boundries every year. Well done everyone, we look forward to this November!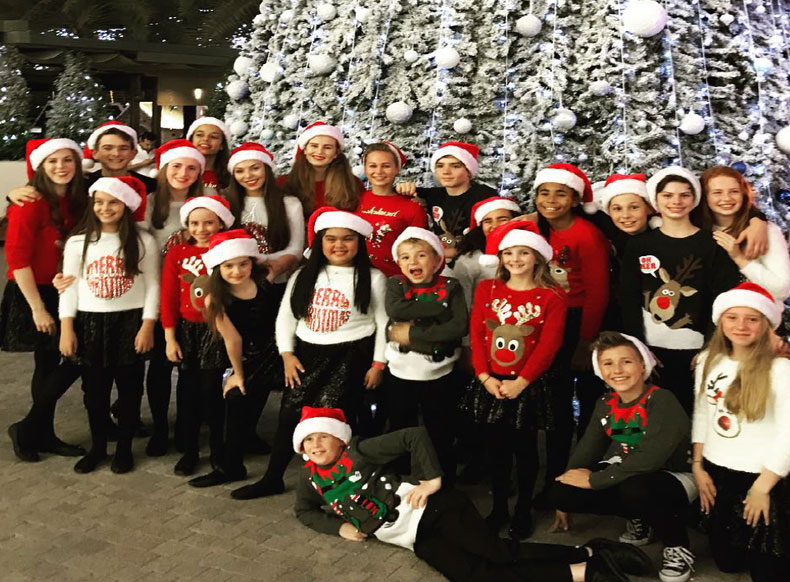 Christmas brought lots of performing opporutnites for our students, so much so that the events department have been joking that our talented students are almost as busy as our professionals!
Some of our singers performed in the Galleria Mall, Abu Dhabi in a choir put togetherto perform a full 30 minute set of all our Christmas favourites. This was a fantastic experience for our students and they wowed the audience with their beautiful voices. We also had some of our older students back at Winterfest for our third consecutive year to dance for a UK cast in their annual pantomime. As always it was a huge amount of fun and if we are invited back again in cember, the students are looking forwards to this years costumes (oh no they're not!). Joining the 'panto crew' at Winterfest we had some musical theatre students performing a festive Christmas Medley to get everyone in the holiday mood.
We had a busy start to 2018 as we all prepared for our annual 'Born To Perform' show in March, this year hosted at Hartland International School who very kindly allowed us the use of their stunning theatre. We went 'Back to School' with this year's theme and had a lot of fun watching our super stars strut their school stuff! We managed to raise a whopping 30,000 AED for our chosen goodwill donation to Team Angel Wolf, a truly inspiring organisation who we are so honoured to have helped this year.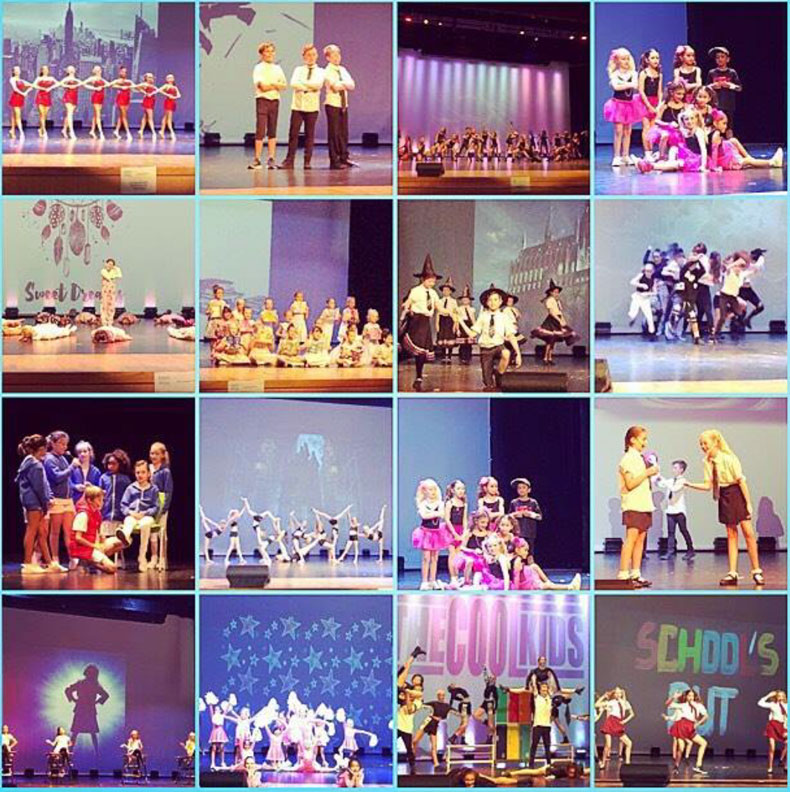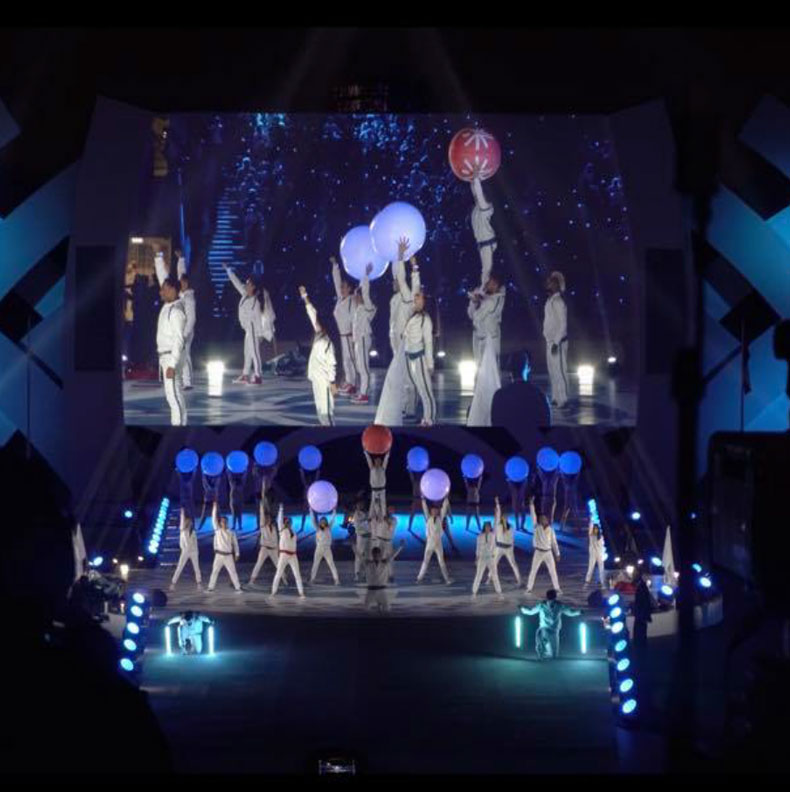 MENA Special Olympics Opening Ceremony
March brought more wonderful events and some of our students were selected to perform alongside our professional dancers in the MENA Special Olympics opening ceremony in Abu Dhabi. This was televised live and performed in front of an audience of thousands. Our students did us so proud!
During Spring Break, we ran two very successful weeks of summer camp for those students who just can't keep away and also welcomed a host of new attendees! Our Emoji Movie and Greatest Showman inspired camp were hugely successful.
We finished the year with summer camps, we went to New York with Annie, re-visited the Greatest Showman (which was back by popular demand!), went to Greece for Mama Mia and stayed in the Middle East for Aladdin. We saw some fantastic work (and set building thank you Neil and Sally!) and the children had an absolute blast.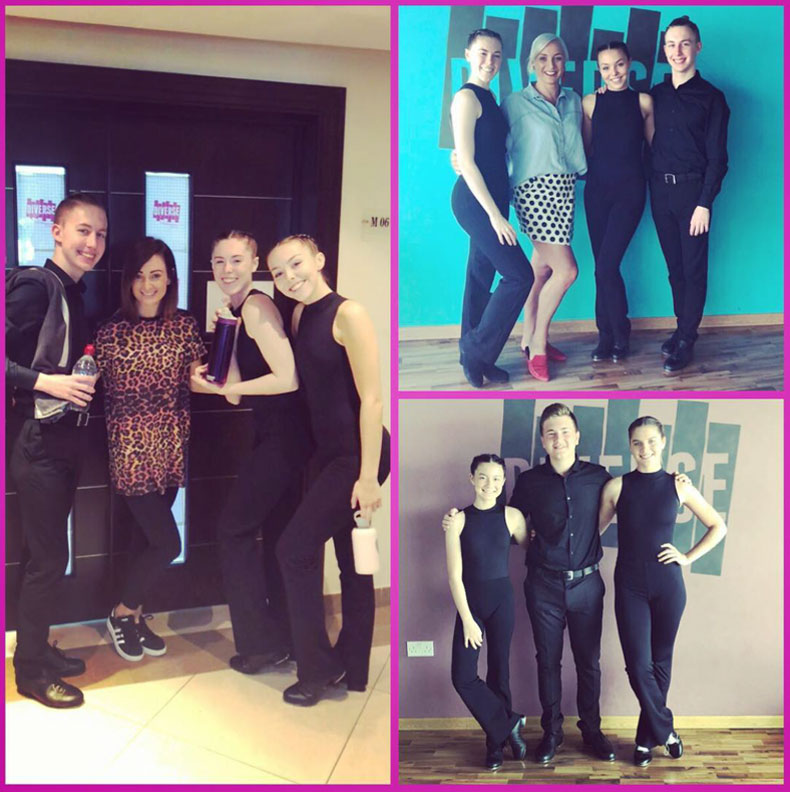 Exams
Before Madinat show madness commenced, we had our annual round of exams which surpassed all expectations for our teachers, parents and students.We had some outstanding results in our Ballet, Tap, Modern, Trinity Drama and LAMDA singing exams. We are amazed every year with the results our students get awarded with and they just get better and better. Thanks to our teachers for all their hard work in building a truly strong exam department and inspiring our students to improve year on year.
Top results included ISTD Modern Intermedate – Callum Bell with 97/100, Hannah Morcos with 95/100. Eden Owen, Beau Lonergan and Lily Naylor with 95/100.Our tappers excelled with Jasmine Scott achieving 91/100 in Grade 6, Samaya Dimachki, Luke Ebersohn and Eddie Zickerman achieving 91/100 in Grade 4. Eden Owen (again!) and Georgia Vintcent with 89/100 in Grade 6 – wow what fantastic results! For Ballet Farah McIntyre achieved 89/100 for her primary exam, Eileen Schwarz achieved 82/100 for Grade 1 and Chloe Clune achieved 81/100 for Grade 4.
Moving onto our Drama Kings and Queens, for their Solo Acting in Trinity Drama we have Mackenzie Duncan who achieved 97/100, Lily Britton 94/100 and Samara James and Zara Bradley achieved 93/100, we expected nothing less from Neil and his talented students. All other students received a Distinction grade. Lastly our singers sang their way to the top with an incredible 98/100 from Isabella Lucci, and 96/100 for Mackenzie Cooper and Yasmina Elabd. Well done girls!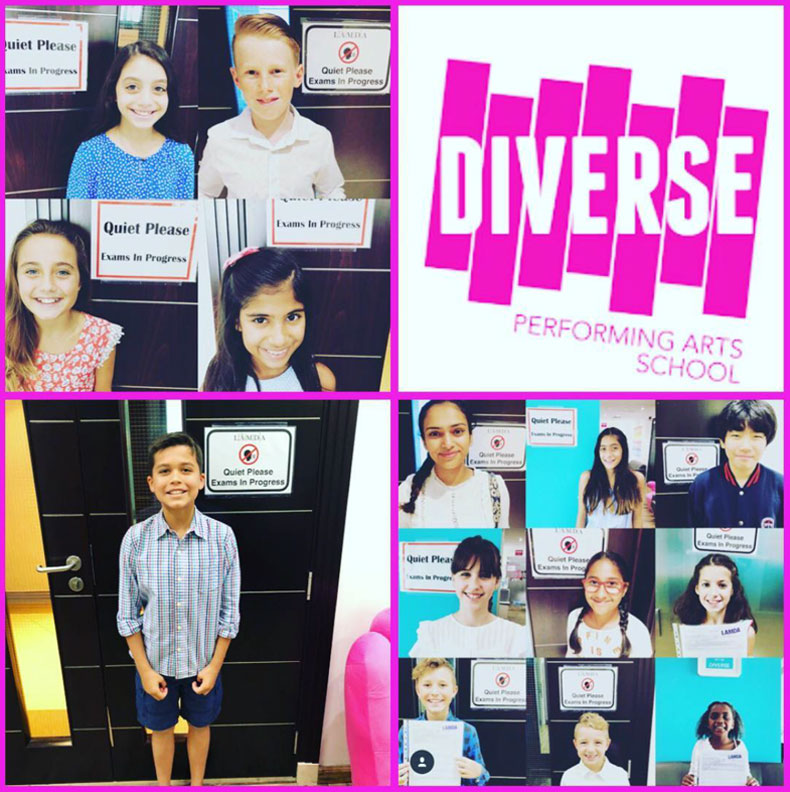 Be Diverse
June was 'showtime' as rehearsals for our annual show 'Be Diverse' at the Madinat Theatre got underway. This year's show held a special place in our hearts as we encouraged our students to be themselves, be confident, be brave, be DIVERSE! We celebrated our unique differences and diversity and had some truly awe inspiring and poignant moments as we watched our superb students raise the roof. We are so privellaged to work with such exceptionally talented and wonderful students who are not afraid to express themselves and celebrate who they really are.
We would like to thank our sponsors Sabertooth Motoring, YH Studios, NR Beauty, afterschool.ae, Light Blue Media and Mumzworld for their support with the show.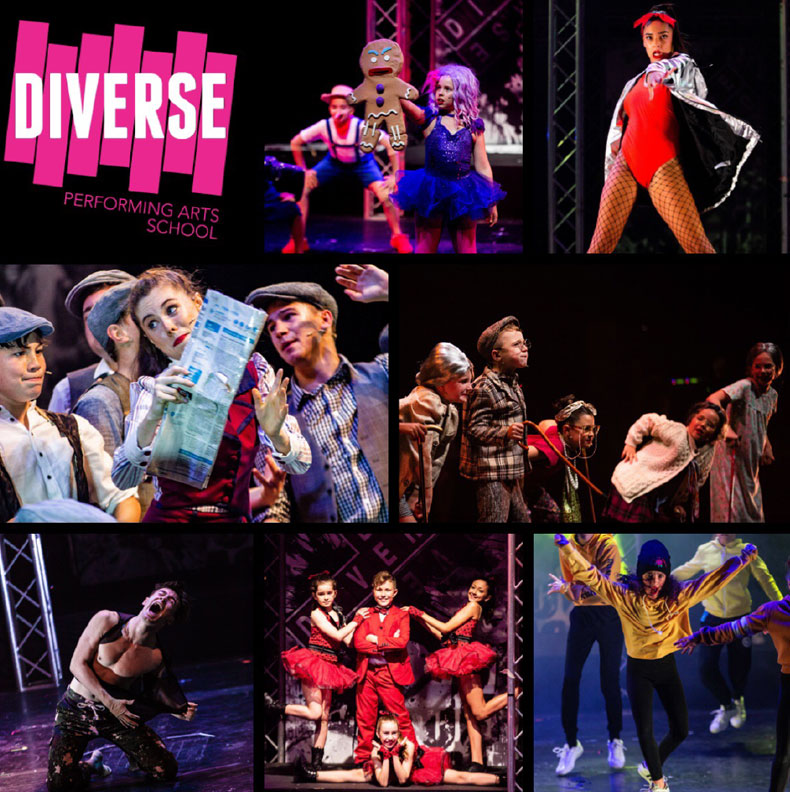 A few pictures from 'Be Diverse' our June 2018 show
We would also like to extend a special thank you to the parents of our students who are a huge part of our Diverse family. We could not have had such a successful show with out the help of so many parents.
Information on how to purchase the show USB/DVD will be available shortly.
Looking forward to 2018/19 year, we have a lot of wonderful news to share with you. Firstly, we welcome three new teachers joining our ever expanding teaching faculty:
Adam Wilson who joins us as Head of Musical Thetare – Singing. Adam comes from one of the most prestigious colleges in London, GSA (Guildford School of Acting), where many of London's elite lead Musical Theatre singers train.
Lara Cadenhouse-Beaty who joins Jackie in our Ballet department as RAD and Free Ballet Teacher. Lara trained and performed with The Royal Ballet in London and danced soloist roles in the ballet company Theater Lüneburg in Germany. She also had soloist roles in Phantom of the Opera and Cats.
Joanna Harker who will join our jazz, tap and modern team as ISTD Tap, Modern and Free Jazz Teacher. Joanna has taught at various schools in the UK as a fully qualified ISTD Tap and Modern teacher whose students have received superb marks in their exams. Joanna has choreographed for summer schools, pantomimes, end of year shows and cabarets. Our new teachers are very excited to meet and work with our students!
For further information on our new teachers, please visit our website to view their biographies.
We are also introducing for the first time ever…. a Winter Camp! Prepare to feel festive as we will be running our first ever Christmas themed camp from 16th – 20th December. Christmas jumpers at the ready… this will be a week of singing, dance and drama that is not to be missed!
A Decade of Diverse
And lastly, as we bring you to the finale of our newsletter, our biggest piece of
news awaits. We have a very special birthday this year as our beloved school
reaches 10 years old. To honour this I am delighted to announce that our annual
June show will be at the DUBAI OPERA HOUSE, yes you read correct, our show will
at the most prestigious and beautiful performing venue in the UAE. We cannot
wait to have the biggest celebration in Diverse history with the Diverse family
doing what they do best and performing their hearts out!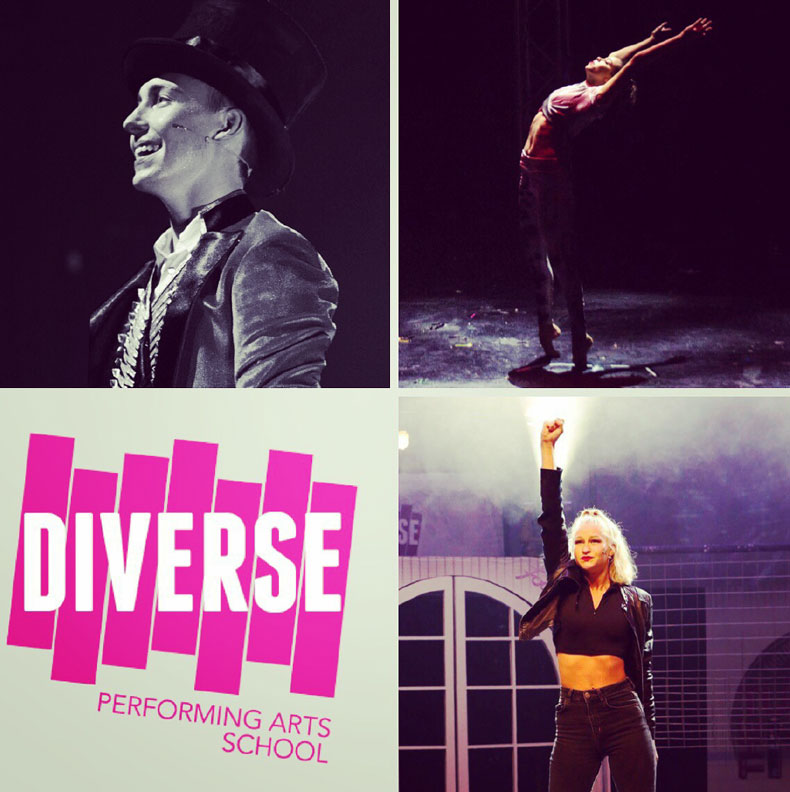 Graduates
This year we are losing 3 of our long-term students who are off to follow
their professional training careers at some of the most prestigious schools in the UK:
Callum Bell and Hannah Morcos (top left & right) have gained places at Laine Theatre
Arts, Epsom, Surrey and Alice Oberg to Arts Educational Schools, London all commencing
September 2018. We are so proud of you all and can't wait to hear how you are getting on! Good luck, we know you will be AMAZING!!
We have a hugely exciting year ahead that we look forward to sharing with you. BRING IT ON!